Whether you are new to motorcycling, an avid track day enthusiast or seasoned road racer, Motovid.com Rider Clinics have something for riders of all levels.
The Motovid.com Rider Clinic program offers four distinct courses in 2015;  Sport Riding 101,  Performance Riding 201, Personal Coach 301 and Real World Speed Street Skills. Each with a focused curriculum, dynamic structure with on-track exercises and an incredible staff of professional instructors dedicated to the students.
Utilizing  the Motovid.com Rider Clinic format, riders of all levels can improve their skills, learn safe riding techniques, develop fundamentals and progressively gain confidence and speed on the track from instructors, many of which are proven racers and track champions.
Class size is limited to maintain 3:1 student-to-instructor ratio for a highly personalized coaching experience. Each class maintains dedicated classroom lessons with 15 min. on track sessions for drills and exercises per hour. Students receive 5 lessons with dedicated classroom time and 5 on track sessions for course exercises.
PROFESSIONAL INSTRUCTION & DEDICATED STAFF
The Motovid.com Instructor Team & Control Staff are highly skilled riders, easily approachable and dedicated individuals. Some of the best riders and accomplished road racers in the midwest,  our incredible team is integral to the success and overall experience of our program.
Motovid.com instructors are trained riders, teachers, professors and accomplished road race champions at many levels. From MSF instructor accreditation, experience coaching with other national programs, Motovid.com's staff has a team of diverse and proven individuals dedicated to each students individual growth and overall experience.
---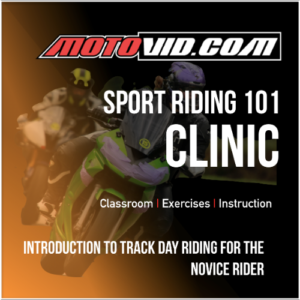 The Sport Riding 101 class is designed for the novice level rider interested in track days, understanding the dynamics of track riding, and improving their street and sport riding skills. Students learn track safety, basic body position, vision, throttle control techniques.
Topics include:Understanding the feedback loop, dealing with lean angles at speed, corner entry, braking/shifting techniques and track riding safety.
2015  DATES
Fri. May 15th SOLD OUT!! 
Wed. July 29th – NEW DATE JUST ADDED!! 
Sun. September 6th
---

The Performance Riding 201 class is designed for Sport Riding 101 graduates or the experienced intermediate level track day enthusiast who rides Motovid.com ORANGE – GREEN working to improve their performance riding skills.
Riders interested in getting "bumped" within their track day organization's riding group or club racers looking to take their riding to the next level should consider Performance Riding 201.
2015  DATES
Wed. August 26th
Wed. September 30th
---
The new Real World Speed – Street Skills Clinic designed  to help street riders improve their fundamentals and safe riding techniques with and without passengers whether on a solo ride or in a group setting. Any motorcycle rider with his/her motorcycle certification can participate alongside with a passenger.
Learn general safety procedures, vision and perception for the road. Smooth Cornering at speed, braking, shifting technique.  Body position for solo and two up riding and understand how passengers affect handling.
2015  DATES
Wed. May 20th
Wed. June 17th
Sat. September 5th
---
PERSONAL COACH 301 – "Custom Training at any level"

The Personal Coach 301 program offered during All Levels Motorcycle Track Days on select events provides a dedicated private Instructor for the entire day with dynamic curriculum based on the individual student-rider.
Primarily designed for  101,  201 , 301 graduates, experienced riders with five or more recent track days can also use this program which expands on the core foundation established in 101/201 Rider Clinic courses.
Dedicated coaches work with riders to quickly develop a skills assessment and roadmap to their achieve own personal riding goals.
2015 DATES

 ANY Event!